Big or small, we create a unique line of planter vessels to suit your need. Made from durable concrete, these pieces are able to withstand any environment. Hand colored with a special mix of pigments, each piece will be a truly one of a kind artwork that is sure to improve any outdoor setting.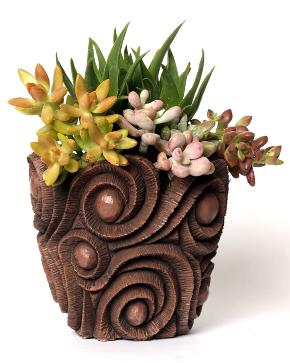 This series of distinctive planters is the perfect fit for any home or office. Intricate detail is fused with organic designs to create the perfect modern planter. Since these are cast resin, they come in a wide range of colors, from the brown, hand painted versions shown here, to translucent with a hint of color.
See the whole series HERE.
These mushroom inspired planters make a dramatic statement in any location. Available in three sizes, they can be arranged to fit and fill any space. The planter has a deeply textured surface, mimicking the patterns of a real mushroom. The top of the planter is a shallow bowl, approximately 6" deep, with a drain hole in the bottom. They make perfect planters for sedums and other moisture sensitive plants. Each planter has a metal stake integrated into the bottom, so they can be easily pushed right into the soil and are ready to start growing.

Currently available directly from the artist. Please send us an email to inquire about pricing.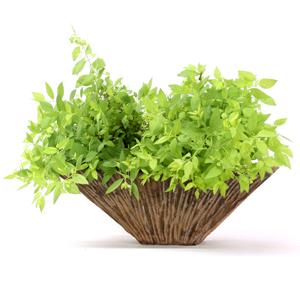 This was a line of small planters we created for the 2011 line of products for Rountree Plantation Garden Center. These small planters were carved with radiating lines, inside and out, then acid stained in several colors to give each piece a unique and multi-layered look. These were a popular item, used both as planters and birdbaths by customers.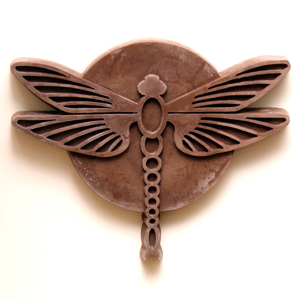 Why not decorate the walls outside as well? We create a variety of concrete wall art to adorn an outside wall, a fence, or a centerpiece on an outdoor fireplace. Each piece comes with an embedded D style hook, ready to hand on any available nail. Available only directly from our studio, please contact us to see our full gallery of designs.