Water Wall for Creek Stone Apartments - Raleigh, North Carolina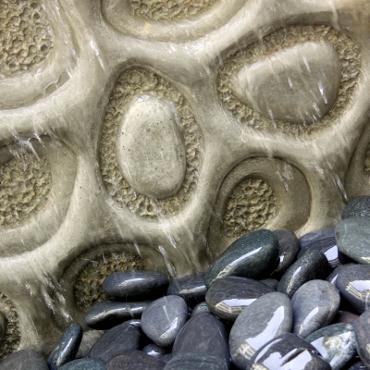 We were commissioned by the landscape architects designing this new apartment community to create a unique and exciting water feature to be the centerpiece of an intimate internal courtyard. While we do sell ready made water features, we are always excited to create a custom water feature for our clients.

For this fountain, we worked with the landscape architect to determine the size, water sound, and design goals of the fountain. We generated a few concept sketches, and arrived at a unique design that played off the project name, and brings to mind the look and sound of water riffling over stones on a creek bottom. Once the design was approved, we moved into production. To view pictures of the construction process, click HERE.

We delivered the final fountain on time to the job site. The folks at C F Evans and Mackie Brothers Pools were the contractors for this job, and did a fantastic job installing the work. It was soon up and running, and looking great in its new home.
As you can see from the images (taken in December 2012), our fountains are designed to withstand the rigors of winter. We will stop by again this spring to document the fountain when the landscaping really starts to fill in.

Gallery of Process Photos